Bizz-E
Complete online service for your B2B communication

Online EDI
Bizz-E is a fully functional online service for handling your EDI message traffic. All standard functionalities for EDI communication are available. Bizz-E is especially suited for parties who want to get started quickly.
EDI Messages
You can make, send and receive different types of EDI messages:
orders : make, send, receive and print
packing slips : make, send, receive and print, with SSCC-encoding
invoices : make, send, receive and print
invoice lists : print
return message : make, send, receive
vmi messages (Ahold communication): make, send, receive
Extra's included
With us you will easily find an subscription that suits you, for competitive prices.
The following extra's are always included:
introduction via free demo account no connection fees free mailbox free first connection with tradepartner use servicedesk included free email alert no additional fees for standard message types, gateways, translations, SSCC-coding etc.
no additional fees for integration with your Exact Online account
Bizz-E Full Service offers also a standard discount on your EDI messaging costs. Via Bizz-E Gold additional software development and customization is being realized.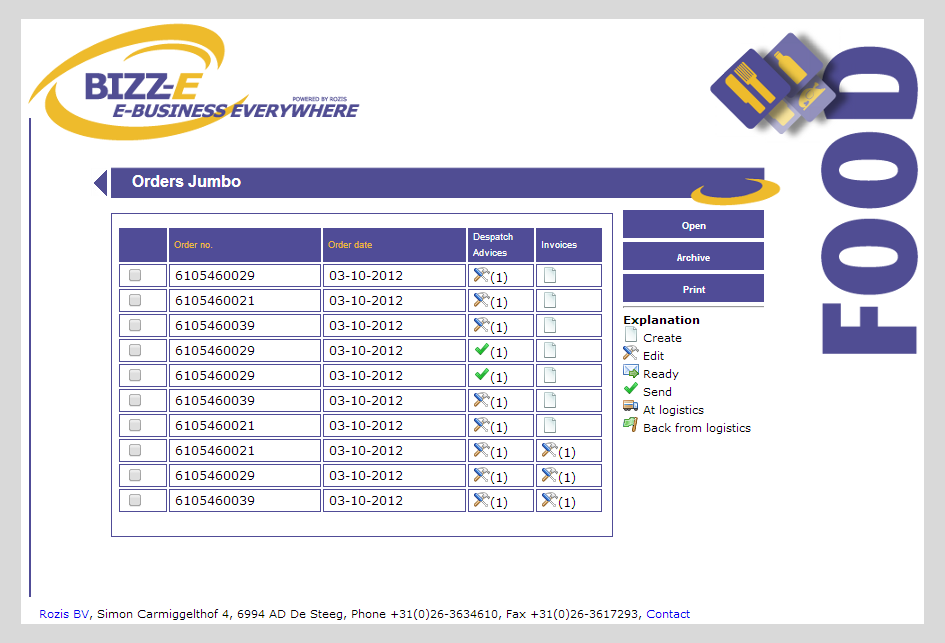 Self-learning EDI
Bizz-E is developed according to an unique 'gaming' concept, in which the accomplishment of ever more complex 'levels' by users, is monitored and supported. The biggest advantage is that simple functionalities are available for sporadic use, and the more complex unfold when you are ready for it.
The basic communication proces of EDI consists of the receipt of an order, which after processing, results in the sending of a packing slip and invoice. This basic proces is central in the design of Bizz-E, and makes the use very easy.
More complex forms of communication however are still possible very well. More advanced usage includes f.a. to enter and manage multiple article(groups), to use divergent data in packing slips, or to manage non-one-on-one message flows.
Starters functionalities of Bizz-E i.a. consist of:
readily equipped for communication with major retailers and branches
step-by-step capture setting, articles and partners
automatic test message to partner ('ready to go')
inbox: see in one glance which orders arrived or still have to be dealt with
one-on-one message flow: form order to packing slip to invoice
build-in course with alert when and how the next functionality becomes available.
emailalert
Advanced functionalities of Bizz-E i.a. consist of:
enter and manage multiple articles and partners
no-one-on-one message flows: f.e. from order to multiple packing slips and invoices
manual input of orders, or manual making of an invoice
divergent data in packing slip, f.e. invoice number
Ready made connections
Bizz-E is readily equipped for EDI communication with all major (European) retailers. When registering you chose the trade partner you want to exchange EDI messages with. Bizz-E will automatically be configured with the data and message specifications required for that partner.
Benefits of online EDI
We present Bizz-E as online EDI or Software-as-a-Service (SaaS). Benefits are:
fast and readily equipped solution no high purchase costs and long implementation always and everywhere available automatic maintenance and updates
Bizz-E PLUS: integration with your online ERP
Bizz-E + is an extension of Bizz-E and offers a very innovative integration with online ERP (business) or administration software. Bizz-E + is the online follow-up of our experience of years in integrating with locale software products. Bizz-E + can send or receive messages to or from trade partners, based on the order- or article data which is created or altered in your online ERP.
Bizz-E + is developed in consultation and cooperation with various ERP software vendors, like Exact Online. Please contact us for more information about the integration of Bizz-E with your online ERP.
Extra features
Multi-user & rights Bizz-E can be used by multiple (external) users, even at the same time. Users have their own rights in the divers functionalities of Bizz-E. Despatch advices for example often are handled by different business units or by an external logistics provider. An extra user account in Bizz-E then is the solution.
Automatic article data upload You can use an additional tool to import automatically all your article data. If you have an extensive article assortment, you save much time at manually entering your article data.
Full Adress Details consumers Via Bizz-E Full Adress Details of consumers can also be included in EDI messages. In this way you can deliver directly at consumers, without changing the process of ordering, delevering and billing between supplier and buyer.
SSCC despatch advices Via Bizz-E there are several solutions are for realizing the exchange of SSCC despatch advices. An exemple can be the adding of SSCC codes to the despatch advices via handscanners.
Extra account for your logistical servant You don't have to add the SSCC-codes to your despatch advices yourself. Bizz-E offers logistics providers the possibility to add extra data to your messages via their own inlog on your Bizz-E account.
Retailer News In Bizz-E retailers with whom you exchange EDI messages, can provide you with news or address changes. This way you're not only rapidly informed of new developments, but these will also be directly inplemented in your EDI system.
Language independent Bizz-E is completely language independent, so available in every language you want (Dutch, English, Spanisch)
Integration with ServicePortal Bizz-E is completely integrated with our online service portal, where you can find extra services, like the status of your messaging and support tickets.
Online or mobile sales Bizz-E can be used as a webshop or portal, wherein the underlying communication takes place via EDI. This can be interesting for direct online sales to consumers, or for your mobile representatives.